THE DEFINITIVE GUIDE TO CONTENT MARKETING
The decline of disruptive marketing. The way we consume content today is so different to the way we did even just a few years ago.
We watch TV shows and movies on demand. We listen to podcasts rather than radio. We read books on eBook readers. We have apps for just about everything to run our lives and entertain us. Social media curate our daily news feed. We pay content providers so we can enjoy an ad-free entertainment experience.
It's clear that disruptive marketing and sales tactics are no longer working and their effectiveness will continue to decline into the 2020s.
But it's not a hopeless situation for businesses and marketers. If traditional marketing methods are no longer effective, we must adapt and align our methods with the way people consume content, especially in the online space, and find other ways of reaching and engaging our prospects.
We do this through content marketing.
What is content marketing?
Content marketing is about providing helpful, useful, or entertaining content to increase brand awareness and connect with your buyers.
You can do this by showing how your business offers a great solution for a problem your target market experiences.
There are many different types of content we can market. Articles, case studies, blog posts, videos, infographics, podcasts, and social media posts are all forms of content marketing.
The rise and rise of content marketing
Content marketing has become a popular, non-disruptive way of reaching and engaging prospects.
Because content marketing helps position your business as a trusted source of information, it allows relationships with your prospective buyers to flourish.
Content marketing and SEO go hand-in-hand.
Building your business' expertise, authority and trust (known as Google's 'EAT' factor), not only positions your business as a reliable and credible source of information for your prospects, Google's search algorithm considers the EAT factor one of the most important signals it uses for ranking content in its search engine. A side benefit of investing in content marketing can potentially boost your organic reach via search engines.
Why use content marketing?
Customers' behaviours have changed in recent years. They're actively avoiding advertising. Think of your own behaviour and the way you engage with different forms of content. Like your prospective customers, you want to be helped, informed or entertained, not sold to.
With smart phone penetration in Australia now above 90%, customers have the power of a computer in their pocket, everywhere they go. They can do their own research at home, work, or on the go.
Content marketing creates value beyond the products or services you offer. By ticking the educational, informative or entertaining box, you're giving your brand the opportunity to connect with prospects by giving them content they need and that they consume, uninterrupted and on their terms.
But we don't recommend creating any old content, throwing it out into the world and hoping it sticks.
Like any well-conceived marketing activity, it should start with a strategy, which then flows into an actionable and targeted plan with benchmarks to measure the campaigns success.

Develop a content marketing strategy
A good content marketing strategy follows marketing's key principles.
If you need to persuade the people who hold the purse strings to invest in this strategy, see our post on 7 compelling reasons why you need a content marketing strategy.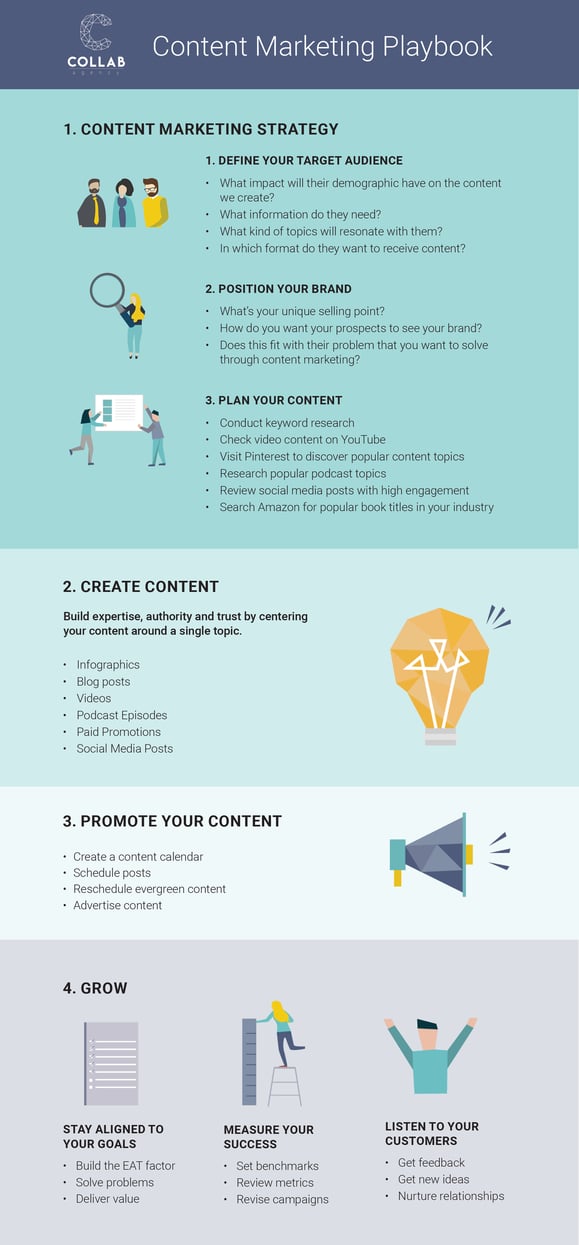 Who is our target audience?
When creating a content marketing strategy, a good first step is to focus on the audience we want to target.
When you figure out who your most important buyers are, pulling a content marketing strategy together and creating the content they need and will value is so much easier.

Research your buyers
Gather research, insights, and any data you have on your most important buyers.
Questions to consider include:
What impact will their demographic have on the content we create?
What information do they need?
What kind of topics will resonate with them?

I

n which format do they want to receive content?
Create a buyer persona
Bring together your research to develop a buyer persona. You can make their persona as detailed as you like but focus on the problem they have that you can solve.
Break down their journey through the buying cycle – from them discovering their need to researching it and then buying the solution.
To drill down deeper into their motivations, write a 'buyer story' where you interrogate the persona by filling in these blanks for several situations:
As a __________, I want to _________, so I can ____________.
For example:
As a content marketer, I want to encourage more sign ups to my newsletter so I can nurture a stronger relationship with potential buyers.
This technique helps nail your prospect's drivers and gives you a better understanding of what's motivating them.
Set your budget and objective
Work out what your content marketing budget will be.
Breaking the content marketing work you want to do into phases is a good approach.
While you might not have the budget to do everything you want to do, you can carve off discrete content marketing projects.
Note what your objectives are. What do you want content marketing to achieve and how will you measure it?
There are many ways to measure the success of the project and it will tie back to your intention and calls to action. Is it to build brand awareness? Drive website traffic? Build your newsletter list? Increase bookings? Sell more widgets?
For more details, refer to our post How to measure return on marketing investment.

Position your brand
You already have a firm idea of your brands position and your unique selling point (USP), right? If not aligned on your branding, we have a great questionnaire to assess where you are at with your brand positioning.
How do you want your prospects to see your brand? Does this fit with their problem that you want to solve through content marketing?

Plan your content
Keyword research
The best way to start content planning is with keyword research.
Keyword research will give you a deep insight into the kinds of content your prospects are hungry for.
By trawling through keyword research data, you'll see content themes start to emerge. Having a theme is an integral part of a content marketing strategy, especially if you want to build up the EAT factor for a particular topic. A theme is like a pillar that you can build support content around.
And it doesn't matter what format your content will be. If there's appetite for your content ideas showing up in your keyword research, that appetite is format agnostic.
But you can go wider than just website keyword research. You can also look at:
YouTube

for keywords for video content

Pinterest

for popular content topics
Your favourite podcast player for popular topics
Social media sites
Amazon for popular book titles in your industry or niche.
If there's little or no search volume around the search terms you think your prospects want, then there's no appetite for that content. It's time to shift your slant.
If there's decent search volume for a primary keyword that your business is well-positioned to compete for, and an abundance of secondary keywords with decent search volume, then you're onto a winner.
Check that your keywords are on brand and serve your prospects interests or needs. If they're not, then it's going to be much harder to create content they'll value.
Set a 90-day plan
Create a content calendar for a 90-day period. It takes time to build the EAT factor. Any less than 90 days and you won't have enough data to evaluate the success of your content marketing efforts.
State your business goals upfront and keep them handy for easy reference. Your content marketing efforts should return to these goals to ensure your actions stay within your content plan.
When are you going to create the content?
When are you going to release the content?
In which format will that content be?
How will you promote it?
When will you review the metrics?
When will you act on the metrics?
Know how you will track conversions to see how your content marketing efforts align with sales.
Different types of content marketing

You might have a preference for a particular content format to market. But keep your audience in mind and know where they hang out. Knowing this will help you invest your content marketing budget in a way that optimises your chance of success.
Here are some popular ways to create and market content.
1. Blog content marketing
Writing, publishing and promoting blog content has been a staple of content marketing for many years.
SEO plays an important role in blogging. The right kind of posts can help build your EAT factor. They help show your expertise and authority on a particular topic.
Blog posts are good for hooking potential buyers. By using pixels and tracking software, you can retarget these visitors through ad campaigns with a different offer, and nurture a more long-term relationship with them.
Our blog is an example of serving content our buyers are hungry for. They're educational and informative and cater to all levels of marketing expertise. They help businesses create, execute and measure a marketing strategy.
Our client, Bethel Funerals, is another example of the execution of an excellent content marketing. Their blog shares resources to help people through the traumatic time of preparing a funeral for a loved one. From writing eulogies to selecting readings and creating a remembrance video, they have useful content to make this sad time a little easier not just for their clients, but for anyone searching for this information.
2. Infographic content marketing
Infographics are still a very popular form of content marketing, especially when you research a topic well and invest in good graphic design.
Good infographics are share-worthy across social media channels. When branded, they also help build your credibility. They're the sort of images that people love to pin on Pinterest or share on other social media channels.
We helped Carrier Air Conditioning create a branded infographic for their website that explores the history of air conditioning. It's full of quirky facts from the inventors of modern air con and has been re-shared many times.
3. Social media content marketing
Social media has become a pay-to-play service. Gone are the days of having your posts organically reach many of your fans. Unless you get solid responses and engagement when first posted, your posts can disappear into social obscurity within minutes.
Creating the content your audience wants, as per your content marketing strategy, is the best way to increase the likelihood of your posts getting traction. If you create content that serves your audience and it's not all about you, you'll have a greater chance of engagement.
Social media scheduling tools are great for not only drafting and scheduling your content in a calendar format, many of these tools also let you identify evergreen content you can repost repeatedly across platforms at future dates.
Fresh Networking on LinkedIn has a fresh approach to sharing posts that puts their audience at the centre of their content. By adding the 'What's in it for me?' Factor (WIFM) to their posts, they're focused on their audience and what they can get out of each post. Adding the WIFM Factor to your content marketing efforts is a great way to ensure your content is user-centred and not coming across as all about me me me!
4. Video content marketing
YouTube is still the world's second-largest search engine. Google says its YouTube users in 2020 are consuming more than a billion hours of video content each day.
There's a thirst for good video content.
Returning to your audience research and business goals – how can you serve your prospects with valuable content that addresses a pressing need or want via video content?
Video content doesn't mean you have to be on-screen, there are so many different types of videos you can create for different purposes. You don't even need to buy expensive equipment. We all have the technology in our pockets with our smart phones, at least enough to get started.
Our client Timberlink features a fantastic array of high quality videos that share useful tips and information about working with timber. From building a deck to working with sleepers, their video collection showcases their expertise.
5. Podcast content marketing
Podcast popularity continues to rapidly rise. At the end of December 2019, there were more than 30 million podcast episodes. If your target market is millennials or Gen Z, then podcasting is worth considering as tool in your content marketing toolbox.
One of the great things about podcast episodes is that they can spark and inspire the creation of many other content pieces. One podcast and the wisdom shared can be turned into multiple social media posts, blog posts and even videos.
However, if the thought of starting a podcast and learning new technology and promotion methods feels like too much effort right now, consider how you can leverage the success of other people's podcasts by offering to be their guest. Bring your expertise to the world without having to plan, record, edit, upload and promote your own.
Create a list of podcasts to target or approach people you already know who have a podcast that's a good fit for your expertise.
An example of an excellent marketing podcast is The Mi3 Podcast, which has an emphasis on the Australian marketing scene. This podcast helps position Mi3 as an authority in the marketing space and the podcast's popularity gives them access to big names in the industry, which continues to build their credibility.
6. Paid advertising content marketing
Careful planning of your paid advertising activities can create a sequence to nurture prospects from casual observers to actual buyers.
Paid promotions, sponsorships and using influencers to promote all content formats listed here can increase your reach and attract new prospects to your business.
Leveraging remarketing tools, you can target prospects at each stage of their buying journey, increasing your chances of conversion success.

Steps to improve your content marketing

Stay aligned to your goals
Keep returning to your business goals and customer research. Ensure they are aligned. You will only experience content marketing success when you're serving the kind of content your audience wants or needs.
Listen to your customers
What questions do they have?
Chances are, they're not the only ones with that question.
Could you create content that answers their question and promote it via content marketing? Is there evidence in keyword research that suggests investment in content creation will generate a ROI?
Avoid promoting your products or service
Content marketing isn't about selling your products or services right there and then. It's about building brand awareness and developing your EAT factor.
Do that well and when they're ready, you'll have a greater chance of converting them into a buyer.
Identify and invest in evergreen content
Look for opportunities to create and invest in evergreen content. This is the sort of content that doesn't have an expiration date like a news story. Create evergreen content that won't need updating or maintaining.
You can recycle evergreen content in your content calendar.
Nurture prospects with email and retargeting
A key part of a content marketing strategy is promotion. Spend as much time on promotion as you do creating the content.
By using marketing automation, you can drive scale and ROI.
Email marketing, paid advertising, and social sharing — these are all ways to promote your content.
When you plan your content, be innovative. The world doesn't need yet another blog post about the same topic delivered in the same way that your peers have done over the past few years. Give your content your own fresh spin. Experiment with different content types. If you've never tried video before, give it a go. If you've been wary of a particular social media platform but you know your buyers are there, test your content there.
The content marketing space in all industries is becoming cluttered, so quality matters more than ever before.
By taking a strategic approach to your content marketing, you'll increase certainty around what to publish and when. You'll figure out how to deliver content your buyers want or need, driving consistent, long-term results for your business.
Get free content marketing advice from the experts!