THE BENEFITS OF USING A CRM SYSTEM TO POWER YOUR CONSTRUCTION BUSINESS
You wouldn't construct a building without solid foundations, and nor should you try to build customer relationships without a solid base of information.
What is a CRM?
A CRM (Customer Relationship Management) system is a software system that helps businesses track all communications to help foster relationships with leads and clients. More than just a digital filing cabinet, a CRM empowers companies to access and draw insights from customer data to inform your business decisions and drive business growth.
A Data Gold Mine
On its own, data isn't much use to anyone. To truly harness its power, it needs to be carefully collated and interpreted so that you can draw meaningful insights and unlock its full potential. A CRM not only helps you find clients, it also ensures that you're communicating with them in a way that gives you the greatest chance of success.
Sure, having a list of open requests for tender (RFTs) can be useful, but being able to properly store information about current clients and potential customers, track previous conversations, and examine existing relationships can be the difference between your firm winning that next big project, or it going to a competitor who was better able to utilise their data.
By understanding your data, you can use it to craft irresistible pitches that see your firm winning more projects and building long-term client relationships that generate future revenue.

Long gone are the days of disruptive marketing. These days, customers want more targeted and valuable information. Your data can help you develop stronger customer relationships by ensuring that the right messaging gets in front of the right people at the right time to be of most value, while causing minimal disruption or annoyance.
Digital Marketing Has Changed, And So Must We
GDPR (General Data Protection Regulation) has changed the way businesses collect, store, and use consumer data. With increased customer awareness, a greater emphasis on online privacy, and large corporations such as Apple redefining data mining while offering greater protections for users, construction companies need to be smart about their data.
The risk of incurring hefty fines for data misuse offers a huge incentive to be careful about privacy and security. Customers are also more likely to trust a company that's open and honest about how they use their data.
Data-scraping and privacy-invading practices are a relic of a bygone era that we should all be glad to leave in the past. But would you believe that many businesses still rely on dodgy practices in their marketing strategy, such as purchasing data lists, impersonal mass emailing, cold calling without consent, and spam texts?
But why?
In many cases, it may not be a sign of malicious intent or a lack of care. In fact, construction companies may be so passionate about their work and so excited to get their message across that they lose sight of the line between marketing, and an invasion of privacy. In other instances, companies just don't know how to utilise the gold mine of data they're already sitting on to make genuine and meaningful contact.
This is where a CRM system comes into play.
Whether it's a simple spreadsheet, or a smart, ever-evolving AI, a CRM system allows you to hold important customer information while drawing the key insights that help you make better decisions, start more meaningful conversations, and strengthen those all-important customer relationships.

The importance of leveraging your CRM to enhance the customer experience
Awarding a construction project to a business can feel like a huge leap of faith on the part of the customer. That's why putting your customer's experience at the centre of everything you do is an essential step in proving why you're the right company for the job. After all, if you can't even prove that you value your customers, how can you expect them to trust you to value their projects, which often represent sizeable investments of thousands if not millions of dollars?
It's for this reason that many B2B businesses and marketers are abandoning the traditional sales funnel and are now adopting the 'flywheel model'. Focusing on the importance of the customer experience, the flywheel model sees construction companies putting greater emphasis on building strong customer relationships that turn one-time clients into repeat customers.
The flywheel model is quite simple. First, marketing attracts potential clients and feeds them into sales. Sales then engages prospective customers and nurtures the relationship until the prospect is ready to make a purchase. Finally, you delight your customers with your incredible service, feeding the customer back into marketing. And around and around you go, strengthening the relationship with every cycle. This model relies heavily on your ability to manage long-term customer relationships to enhance the customer experience. That's where a CRM can be your best friend.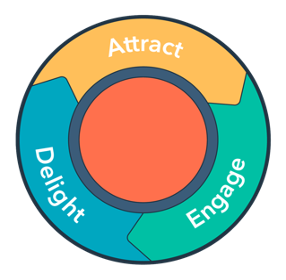 Experience-driven marketing is more than just a buzzword. For a construction company, it can be the difference between one big project with a client, or several projects over the course of many years. Forrester research found that companies who said they were focused on the customer experience grew 40% faster while increasing the customer lifetime value by over 60% compared to those who weren't. In fact, it's been found that a mere 5% increase in customer retention can increase company revenue by between 25%-95%.
But maintaining existing customer relationships can do more than just generate income and growth, it can also reduce your overall spend. Studies have found that acquiring new customers is between 5 and 25 times more expensive than retaining an existing one. Without the need to constantly start from scratch when building brand affinity and trust, it's going to take a lot less effort — and money — to convince people to return to you in the future.
But without a CRM guiding your marketing and sales efforts, you can end up with disjointed customer experiences, siloed data, and difficulty determining what is actually working.
By investing in a CRM, you're investing in your company's future. Giving your team a clear and unified view of the entire customer experience helps them craft truly personalised journeys across all marketing channels, while making it easier to measure your success.
Personalise marketing with a CRM
Trust is vital in the hyper-competitive construction industry, which is why offering a personalised and cohesive experience is the key to your success.
In construction, personalisation means providing the right information on the right channels, just when it's most relevant to your customer. Timing and relevance are critical when making an offer, which is why insights based on previous interactions can help you get a clear picture of your customer's needs and interests.
Personalisation also includes the little touches, such as using the customer's name, or recalling the person they originally spoke with so you can establish a single point of contact. This creates a more genuine, consistent, and streamlined experience with your company.
All of this information and much more can easily be accessed with a CRM.
Three steps to CRM success
Making the most of your CRM can be broken down into three key steps:
Segmentation:

Ensure all messaging is relevant to the customer's needs

Contextualisation:

Make it clear why this messaging is valuable and relevant

Personalisation:

Show your customer that you value them
Segmentation
Did you know that the average consumer sees anywhere between 5,000 and 10,000 advertisements a day?
It's no wonder most ads go largely ignored. It should therefore come as no surprise that apathy is one of the key challenges you'll need to overcome if you wish to connect with your customers.
If a consumer doesn't feel as though your messaging is directly relevant to their needs, they'll likely tune it out. This is where a CRM can help you better understand your customers so that you not only connect with the right people, but also supply them with the content that's most relevant to them.
A CRM allows you to create laser focused marketing by analysing customer data and isolating specific groups based on wants, needs, and sales readiness.

Segment Your Database With Lists
Lists are an excellent way of isolating segments of your database. In minutes, you can build lists based on customer activity, industry, recent interactions, and much more, and then tailor your marketing efforts to each unique segment.
A client who's recently had work completed on their latest building project, for example, may appreciate a follow-up email or call ensuring they're happy with the final work — or offering further support if they're not. In many cases, after-sales service can be just as important to customer retention as everything that came before.
Create Manually Tracked Custom Behavioural Events
Manually tracked custom behavioural events allow you to define and monitor specific events that are distinctive to your business. These events can be tied to contact properties, which you can then use across your CRM tools like those within the HubSpot CRM platform.
Learn more about manually tracked custom behavioural events.
Contextualisation
There are three key stages that every buyer will pass in the lead-up to engaging your services: Awareness, Consideration, and Decision.
These stages can vary greatly, even within the same industry. A small building project, for example, may progress through the stages quite rapidly, whereas a multi-million-dollar project may involve months of preparation and consideration, and hours of discussion with key stakeholders before a decision can be reached.
But regardless of how long it takes to move from one stage to the next, one thing remains the same: customers will need relevant, specific content to help them progress through to the next buying stage, and ultimately reach a decision.
Build Campaign Triggers Along The Buyer Journey
Providing the right content at the right time can help ease prospective customers through the buyer journey, while making it easier for them to make their final decision. You'll need to put yourself in your customer's shoes to understand what information would be most valuable to them at their current place in the customer journey.
By dividing prospects according to their buyer stage, you can ensure they're receiving timely and relevant content that helps lead them to the point of making a sale.
Consider the content below to see what a journey-led content strategy might look like:
Awareness:
Blog: How workplace design may be impacting employee productivity
Consideration:
Guide: 10 ways to improve performance through design and architecture
Decision:
Case study: How we were able to enhance productivity for company X with a new office design and fit out.
Contextualise Your Messaging, At-Scale
With HubSpot Smart Content, you can create content based on a guiding set of rules that allow emails, landing pages, and CTAs to be displayed differently depending on what's known about the prospect.
HubSpot pages can react to customer needs based on the buyer journey. You can use the data in your CRM to determine whether you should be showing Awareness, Consideration, or Decision-related content at any given time
This data-driven approach helps minimise admin work and effort while boosting conversion rates and driving more revenue.
Personalise
You can personalise sales messaging on any standard or custom properties (the various data points you collect on contacts) in a CRM like HubSpot.
But effective personalisation runs deeper than simply using a contact's name in a sales email. These days, customers expect relevant and timely messaging — that doesn't feel like just another automated email. People receive dozens of impersonal automated emails a day, so imagine how much your brand is going to stand out if you offer exactly the answers your prospect is looking for, just when they need them most.
That serendipitous feeling of a brand showing up at just the right time with just the right information can seem like fate to a customer, making it feel as though your partnership was 'meant to be'. This can help cement a connection with your brand.
Sometimes the lines between contextualisation and personalisation can become a little blurred, so perhaps it might be easier to think of it this way:
Segmentation:

Who do we wish to speak to?

Contextualisation:

What are we going to say?

Personalisation:

How will we say it?
While contextualisation ensures you don't drive a prospect away by going too hard too soon, personalisation is what makes prospects feel valued. It's important to remember that contextual communication should be personal, but not too personal. It's a fine line between being friendly and helpful, and just plain creepy.
Gather company-specific information on your leads with custom properties
From names and addresses right through to the number of emails they've opened, your CRM should come jam-packed with a whole host of pre-made data points that you can collect on your prospects. However, because your CRM is made to be used across a range of industries, these data points may not always cover everything you need.
That's where custom properties come in, allowing you to construct bespoke data points that are specifically tailored to your needs and those of your customers.
Grow your business with a CRM
By keeping your CRM data well-maintained and easy to access, you can delight your clients while driving more sales with tailored and impactful messaging.
Segmenting your audience allows you to narrow your focus to your perfect prospects. Once you've segmented your audience, you can then contextualise your messaging by matching it to a specific point in the buyer journey to ensure that your prospects are receiving the right messaging at the right time to help them move to the next stage of the purchasing journey. From there, it's time to personalise your messaging by using the right language to help them feel at ease while building trust and affinity for your brand. Personalisation is all about making a prospect feel valued while providing useful, relevant information exactly when they need it most.
Hyper-personalised communications
Your CRM is a gold mine of valuable demographic data that can help you personalise your communications. But it's also loaded with activity and engagement data that can help you ensure timely and relevant content that transforms personal communication into hyper-personalised messaging.
Triggers for timely messaging
Page tracking for individual recommendations:

Track which pages a contact has visited so you can offer specific recommendations that are tailored to their needs (not unlike a retargeting ad).

Use deal stages to trigger customised bots on pages to help drive sales:

A bot that's been tailored to the stages of the buyer journey can help provide information and answer questions at just the right time.

Known dates that trigger personal messaging:

Sending an email on a birthday, anniversary, or even on the date your customer's construction project was completed a year ago can be a fun way of showing customers that you value them.

Delay actions until a contact responds or performs an action:

Delaying actions until a contact has done something, such as visiting a web page or filling out a form, is a great way of ensuring a buyer is engaged with you before you get in touch.
Turn customer data into your construction company's greatest asset
By sending out the right messaging to the right people at the right time, you can drive more revenue in a sustainable and cost-effective way. Speak to us about applying some of the suggestions listed above using HubSpot's powerful set of tools to create meaningful, valuable, and personalised campaigns that drive your business growth.