THE BATTLE OF CRMS - HUBSPOT VS SALESFORCE
A question we are often are asked – "I know of Salesforce, and you seem to be selling HubSpot, so which is the better CRM?"
Of course, there is no definitive answer to this question. The answer to this question comes down to you knowing exactly what it is you need your CRM to do and what financial and human resources you have available to implement it with.
Salesforce, has the awareness and market share to claim "top dog" CRM status. (roughly 30% market share.) Their dominance is based off heavy-duty, enterprise-level CRM capabilities, which has successfully disrupted the long-term software solutions providers across the likes of SAP, Oracle, Microsoft, and Adobe.
As you would expect, Salesforce isn't suitable for every business need, so the purpose of this blog is to help you understand where Salesforce sits versus the alternative CRM that we recommend - HubSpot.
What is a CRM and why do you need one?
CRM stands for Customer Relationship Management (CRM). In order to compare the two CRMs, we need to go back to understand what a CRM is, and what success looks like if you have the right CRM, and it's doing its job.
A CRM is your one source of truth

Generally speaking, customer relationship management software is a set of tools that allow sales teams to organise contact information and manage relationships with current and prospective customers, clients, and other stakeholders.
Or, more to the point, the foundation of a CRM is basically that it's a Rolodex in the digital realm. The difference being that CRM platforms are all about emphasising the "R" in CRM – 'relationship'.
A CRM should be your one source of truth - helping you find contacts who work for a company and any messages that have been sent throughout the sales or service relationship. A CRM should enable a line of sight as to who on your team was in contact with them last, as well as what was discussed, so that everyone on your team is in the loop.
A good CRM should also enable your team to:
Develop a marketing-to-sales-to-service customer experience strategy
Automat

ically

identif

y

the

life cycle stages of sales contacts
Track deals from

first meeting

through

to

a signed statement of work
Enable increased functionality and shared intelligence across your sales, marketing, and customer service teams.
HubSpot vs SalesForce: Critical categories of comparison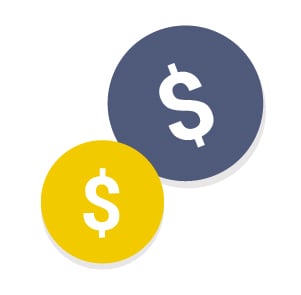 The basic HubSpot CRM is free and Salesforce is not. It's that straightforward when comparing cost. And yet it isn't! Delving into the specifics, Salesforce offers a lot of different options so that you can customise what you need and what you don't so you can stay within budget.
With Salesforce, you begin by choosing from one of four licensing options. Essentials licenses run for $35 per month per user, which offers the out-of-the-box software for up to 5 users. Next comes Lightning Professional for $105 per month per user offering out-of-the-box software for any size team. Lightning Enterprise for $210 per month per user, which offers a deeply customisable CRM and finally Lightning Unlimited for $420 per month per user, which offers unlimited CRM power and support.
So, for a team of 10 sales staff, running four Basic, three Professional, two Enterprise, and one Unlimited, your spend with Salesforce would be $1,295 per month billed at $15,550 annually. This excludes added support, which can add 20% to 30% to your licensing costs.
With the HubSpot CRM, you can have as many users as you need for as many contacts as you require, for free (until you start to use the Tools).
HubSpot also offers you the ability to upgrade to some premium HubSpot sales tools along the way, if your team needs added functionality.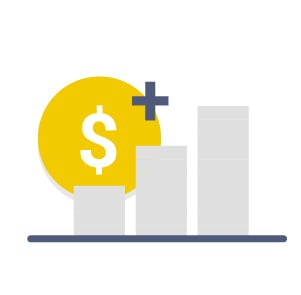 HubSpot vs Salesforce Hidden Fees, Costs & Add-ons
There are a few areas where cost can rise above the base user/support costs. For Salesforce, here are some premium tools that can increase your cost:
Knowledge base user license
Advanced analytics
Live video chat support
Advanced social customer service
Customer and partner community access
Field services
Additional data storage
If you end up requiring support from a Salesforce specialist for your on-boarding, you'll need to pay for that, too. This is billed hourly or as a lump sum, as part of your upfront cost for implementation.
With HubSpot, there aren't really any added costs aside from the paid tools. There are 3 main paid tools (1) Marketing hub, (2) Sales hub and, (3) the Service hub (refer to latest pricing here). However, the basic CRM is free and stands alone with a relatively straightforward on-boarding process, however, we would suggest investing a modest amount with a CRM consultant who can help you get set-up, trained and on-boarded.
Something to keep in mind about the HubSpot CRM is that there are fewer native integrations available (however, there are over 200 available). With the CRM being a newcomer, building out custom HubSpot CRM integrations can quickly get expensive.
So, if you're a business that will require a lot of cross-functionality and integration between different platforms and your future CRM, that's a potential drawback you will want to investigate.
HubSpot vs Salesforce Usability Comparison
Aggregating the scores for both CRM platforms across review sites like SoftwareAdvice.com, Capterra, and G2Crowd.com, Salesforce gets an average customer satisfaction score of 4.07/5.
On the other hand, the HubSpot CRM customer satisfaction score average clocks in at 4.4/5.
However, this is not an 'apples with apples' comparison since Salesforce's score comes from around 22,000 reviews and HubSpot's score comes from around 4,300 reviews.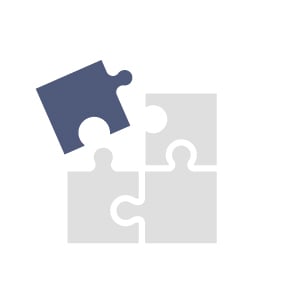 HubSpot vs Salesforce Implementation Comparison
Getting your new CRM software up and running is not always an easy task - no matter which CRM you choose. Your implementation success will depend on a lot of factors.
Implementing Salesforce:
Implementing Salesforce can be pretty costly, especially if your company is switching from another CRM and needs lead/customer data scrubbing, custom integrations, or a lot of added features. This process alone can take months, especially for large companies.
Implementing HubSpot CRM:
You still may need to reformat or scrub your data. Some team members may require training on the new system, and you could have to build your own custom integrations. However, the HubSpot CRM edge over Salesforce is that you probably won't need to hire someone to make the switch to HubSpot - unless you're a large company who needs to seek out professional change management support from your ultimate CRM provider.
According to users, HubSpot CRM is simple to set up and use, self-explanatory, and quick to get running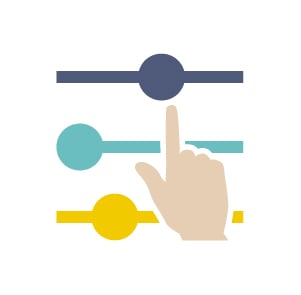 HubSpot vs Salesforce Customisation Comparison
Customisation of your CRM is all about what elements you can change, the level at which you can make changes, and how easy it is to make those changes.
Salesforce markets itself as "the most customisable CRM," and this is true. HubSpot is also highly customisable for your business processes and structure, but not to the same extent as Salesforce.
HubSpot out of the box is great for sales people with average technical knowledge. They can customise HubSpot deal stages, pipelines, views, and other things easily enough within the CRM. As mentioned, the HubSpot CRM increasingly also offers quite a few integrations with relatively basic set up knowledge required.
Users would, however, definitely require some developer assistance if they wanted to use HubSpot's Open API to further customise and build integrations into the CRM.
A Salesforce user can also customise processes, workflows, and users without developer help, all within the CRM. It might take longer in Salesforce due to the sheer volume of features that they offer, but it is doable nonetheless. Salesforce also has an entire industry of developers dedicated to building custom functions and apps in the Salesforce Sandbox.
If you want fast, easy, simple adjustments to the software to fit with your internal processes, HubSpot is the right choice. However, if you want to customise your CRM to the maximum level of detail to masterfully sync your CRM with your business processes, Salesforce wins.

HubSpot vs Salesforce Integration Comparison
Salesforce has the clear advantage here.
The HubSpot CRM has over 200 App integrations and the list is expanding. And with the Open API, businesses can build their own integrations if they have access to a developer.
However, Salesforce has an entire environment dedicated to the thousands of products and integrations they have called App Exchange.
When it comes to integrations, Salesforce is to HubSpot CRM, as App Store is to Google Play Store. You can do some custom development on both platforms, however there's a higher volume of native development happening within the Salesforce community due to its market share.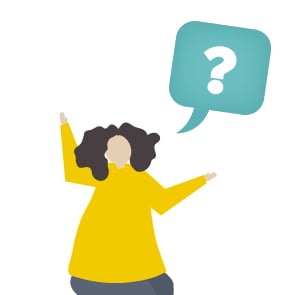 HubSpot vs Salesforce Help Support Comparison
With the lower-level Salesforce licenses, you receive pretty limited support. At the Enterprise license level, you obtain access to the Salesforce Knowledgebase, how-to guides, forums, training courses and certifications.
Most of HubSpot's CRM support is available to users who don't even have the CRM, but free CRM users get access to HubSpot Academy, eBooks, downloads, user documentation, and 24/7 Live Support. If you upgrade to paid HubSpot products, you gain additional access to 24/7 phone and email support.
HubSpot vs Salesforce Marketing and Sales feature Comparison
The days of a CRM's feature list stopping at being a simple contact Database are long gone. You should and will be able to add significant marketing and sales to the base CRM product and the CRM should provide the means to commence basic marketing and sales automation.
Features like email, workflows and sequences will save you time but also help conversion rates through nurturing strategies. While being able host documents, templates and content like blogs and landing pages are all features you should expect within your CRM to some degree.
Which CRM is right for you?
Both Salesforce and the HubSpot CRM each have their advantages and disadvantages, so there's no simple "one-size-fits-all" answer. Making the right choice between the two will come down to you knowing exactly what it is you need your CRM to do and the resources you have available.
To help, we've evaluated the critical categories according to a 5 point scale, with 5 being excellent and 1 being extremely poor.
If you don't need to be paying for the bells and whistles then there's certainly little downside with the HubSpot CRM. However, if your business model and processes are so unique and complicated then the extra investment required for Salesforce customisation is worthwhile. In our experience we see this is reflected in the users of each platform, where HubSpot is very well suited to SMEs and Salesforce towards larger enterprises.
Click here or the image below for tips and assistance in making your digital strategy.