COLLABORATING TO CREATE CONTENT THAT SKYROCKETS YOUR BUSINESS
Of course we think being collaborative is cool. We're clearly better together as a collective and with a collaborative mindset anything can be achieved.
As we say here at Collab Agency. Together we grow! More than just being cool, being collaborative is the key to successfully generating creative content that can attract new visitors and then convert those visitors to leads and customers. So we thought we should provide some real life examples as to how we have collaborated in the creative process for outstanding results.
Get Cool Fast with Toshiba Air Conditioning!
From the beginning, this integrated campaign started as a journey to make Toshiba Air Conditioning famous for getting cool fast. Our creative team on this campaign, Billy and Mal went to work based on our strategic direction and developed a series of wonderfully engaging concepts based around the insight that we do very uncool things when we get hot and bothered in the heat of summer.
After collaborating on the concepts with our client, we went into production mode and collaborated with Michael and Nick from Truce Films. They saw the vision and applied their expertise and passion in a seamless production and shoot on a brilliant sunny, cloudless September day. It was a cold 8 degrees (as it was shot in Melbourne) – how many cloudless, sunny days do we have in Melbourne? Needless to say luck is part of every great success.
Having blocked off a street in Thornbury, we even had stills photographer Hugh Peachey on set to capture important campaign assets. Then it was time to finish off the campaign in post production with the team from Crayon, having Jo, our Creative Director supervising.
Mark and Leigh from our studio then built the assets and the campaign media has launched via our two media gurus 'TV Sam' and 'Youtube Sam' – Yes the same name, but two different Sams with unique skillsets. The campaign has rolled out in across TV, print and digital mediums and achieved a strong sales surge of +10% growth versus the same time the previous year.
Timberlink. Made of Tasmania
It's great working with like-minded clients. Timberlink demonstrated a collaborative mindset from the outset to the very end of the creative content production process. So it's no surprise that we ended up with a campaign theme that in it self was collaborative in nature – more on this later.
Commencing with market research we flew to Hobart on a mission to understand Tassie builders, trades people and the active DIY market. Working with the team at Myriad Research we started to piece together the challenges and opportunities we were facing from a brand and communications perspective.
Using the insights garnered from the qualitative and quantitative market research, we then got down to the preparation of the brand positioning strategy. David and Gordon collaborated with the Timberlink team to create a brand positioning that sought to bring out the triple bottom line value that Timberlink creates in Tasmania – in particular the social and economic value. Not content with having only market research as an input we also collaborated with key customers and the senior leadership team to ensure we captured a 360 degree view.
And so the 'Made of Tasmania' positioning was born.
Now came the time to execute and Rich, our Creative Director commenced the concepting stage with a clear and aligned brief. Rich collaborated with our writer, Pam and our studio, curating a range of concepts. The winning concept leveraged the insight that Tasmanians show a uniquely high level of care for each other that's built off strong community values.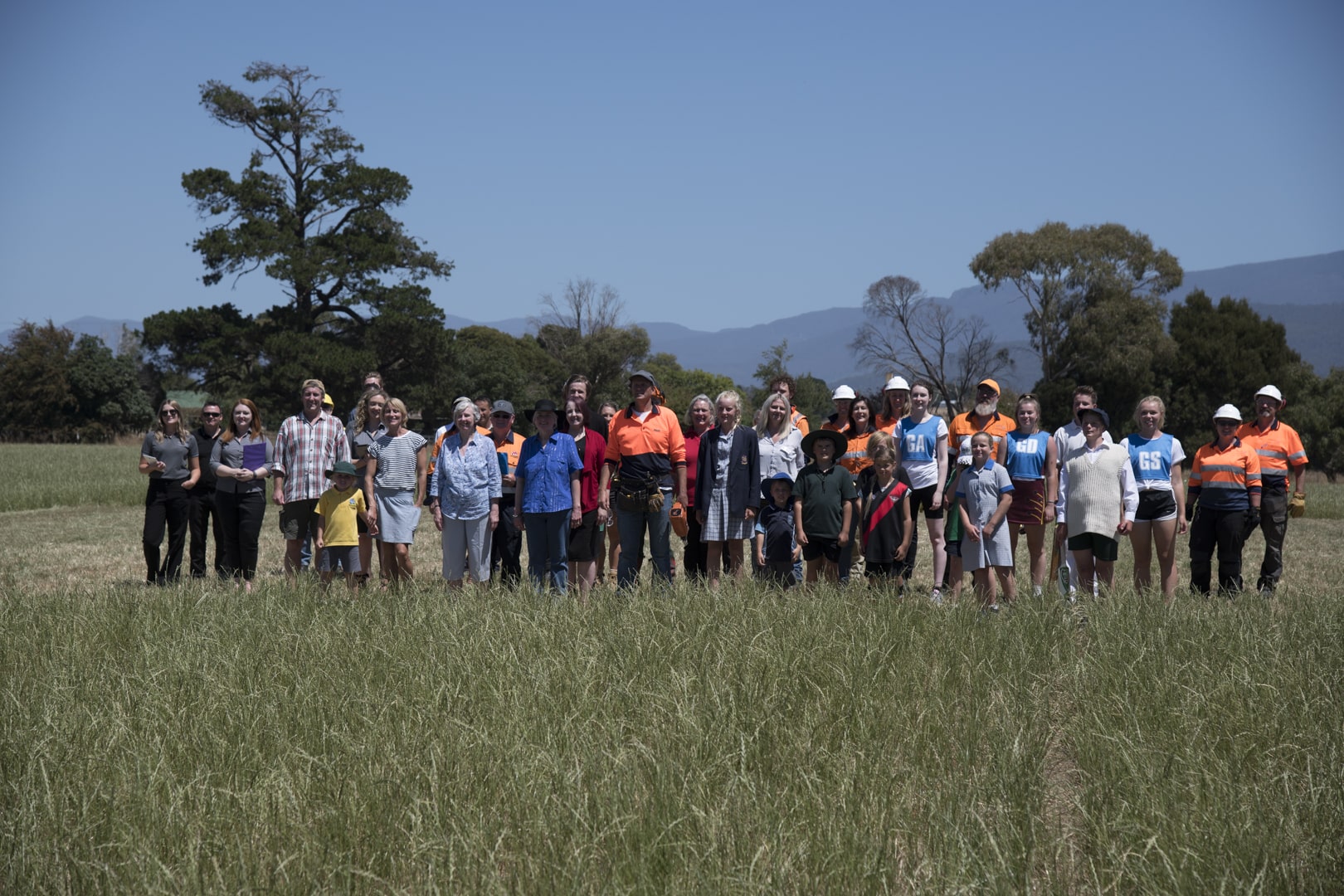 The line 'Together we build' was agreed by all parties to be a perfect entry point for the 'Made of Tasmania' campaign. So into production we went – this time with Charlie and the team at Burning House Productions. Spending a week in Tasmania shooting content for a multi channel media execution that was expertly planned by Chris our media specialist. First up was the TV ad, with a cast of 40 plus on an uncharacteristically hot day, this was a long hard day. However, the fruits of our labour paid off in the end with an expertly crafted TV ad, which has been warmly received by the Tasmania community. The remainder of the week was spent collaborating with Timberlink's partners in their value chain – from the nursery and the plantation pine foresters, to the mill and the local Georgetown community we captured a huge array of video content to tell what we labelled the 'Growth Rings' story.
Then it was into the post production phase with – a TV commercial, online video content, website design and development and advertising for online display, print and outdoor all being crafted with attention to detail for a quality outcome. We ended up collaborating with an extensive array of specialists – writers, art directors, video editors, illustrators, animators, designers, photographers, re-touchers, project managers, voice over artists and developers. At the time of writing the campaign is still executing and our post campaign research is yet to reveal itself. We are confident that our joint collaborative efforts will payback handsomely with increases in all of the key metrics.