5 ESSENTIAL ELEMENTS OF A LONG-TERM GROWTH STRATEGY
Most leaders and employees would agree that a long-term growth strategy is an essential element for all businesses.
While most businesses have annual plans and budgets, we are increasingly coming across businesses of all shapes and sizes that don't have a long-term view on how they are going to grow. Businesses are so focused on short term goal achievements for a variety reasons – one of which is the ROI mantra business executives go on about. Return on investment analysis is a good framework to evaluate business initiatives. However, this focus can lead to extremely narrow thinking which over time has a diminishing effect i.e. more effort for lower returns.
We've listed 5 essential elements of a long-term growth strategy to help you navigate between the short-term requirements and the desire to achieve your long-term growth ambitions.

1. Envisioning what growth actually looks like

Do you really want long term growth? Are you happy with the current state? If not, then challenge yourself and your business to identify what growth looks like. What's the prize you are playing for? By doing this you're more likely to commit your energies and focus required to achieve it.

This is leadership in a nutshell and it's the most important aspect for long term growth – setting a vision for the business and selling that vision to all stakeholders. Growing beyond your current state involves risk, but most of all, it involves getting everyone in a workshop to imagine the future, speak the same growth language and align actions with intent. Then you're on your way!


2. The 60/40 rule of brand building vs sales activation
In their ground breaking work, "The Long and the Short of it", Les Binet and Peter Field studied over 900 campaigns, from 700 brands, across 83 sectors, spanning 30 years of IPA effectiveness data. What they discovered was that there is a formula for the most effective balance between brand building and sales activation. It is a 60/40 relationship between brand building vs sales activation.
Binet and Field have also studied B2B markets specifically and found a 46/54 relationship between brand and activation as the sales task is harder in B2B.

The Differences between brand building and sales activation:


| | |
| --- | --- |
| Brand Building | Sales Activation |
| Creates mental brand equity | Exploits mental brand equity |
| Influences future sales | Generates sales now |
| Broad reach | Tightly targeted |
| Long term | Short term |
| Emotional priming | Persuasive messages |
Source Les Binet and Peter Field, Media in Focus: Marketing Effectiveness in the Digital Era. IPA

The implications for those searching for long term growth it that it is essential, even for start up businesses (that maybe in boot strapping mode) to be focused on long term brand building first and foremost. Does this mean we abandon short term initiatives? Of course it doesn't. What it does mean, however is that we need to get the mix right. Brand building is not always easy to execute when funds are limited, however it is achievable when a) You plan for it and b) You do fewer things more comprehensively

.



3.

Figure out your why, who and how



How obvious is this? Very! However, in the competitive world we live in the emotional connection that our purpose provides for employees and customers can be a real differentiator. At the very least your purpose connects to values. And your customer's values are held for the long term – a nice fit with your long-term growth goals.

Identifying your ideal or best fit employee and customer is key. It will stop you from hiring or working for someone who depletes your business. It will also sharpen your focus on the value your business provides beyond the utility of the product.

Your brand positioning should provide a resolution for your customer's pain points – that's the rational piece. However, it should also connect with the customer's values and emotional state. It should make them feel good about your business because when your customers identify emotionally with your business, you have a long-term growth enabler.


4. Focus on acquiring more customers rather than hoping for loyalty


To some this might seem counter intuitive to the mantra we hear about careful target marketing, avoiding media wastage and maintaining customer loyalty. However, Les Binet and Peter Field's work mentioned above, suggests that to achieve your long-term growth ambitions, the most effective customer strategy is to focus on growing your customer base through broad reach and market penetration. This doesn't mean you delivery a lower level of quality to existing customers by the way!

As you focus on long-term brand building initiatives, you need to ensure that your share of voice out paces your share of market so your brand can build its growth momentum by becoming more attractive to prospects that are outside of your direct relational networks. These prospects and leads are also likely to be more profitable as they are inbound in nature. They choose you!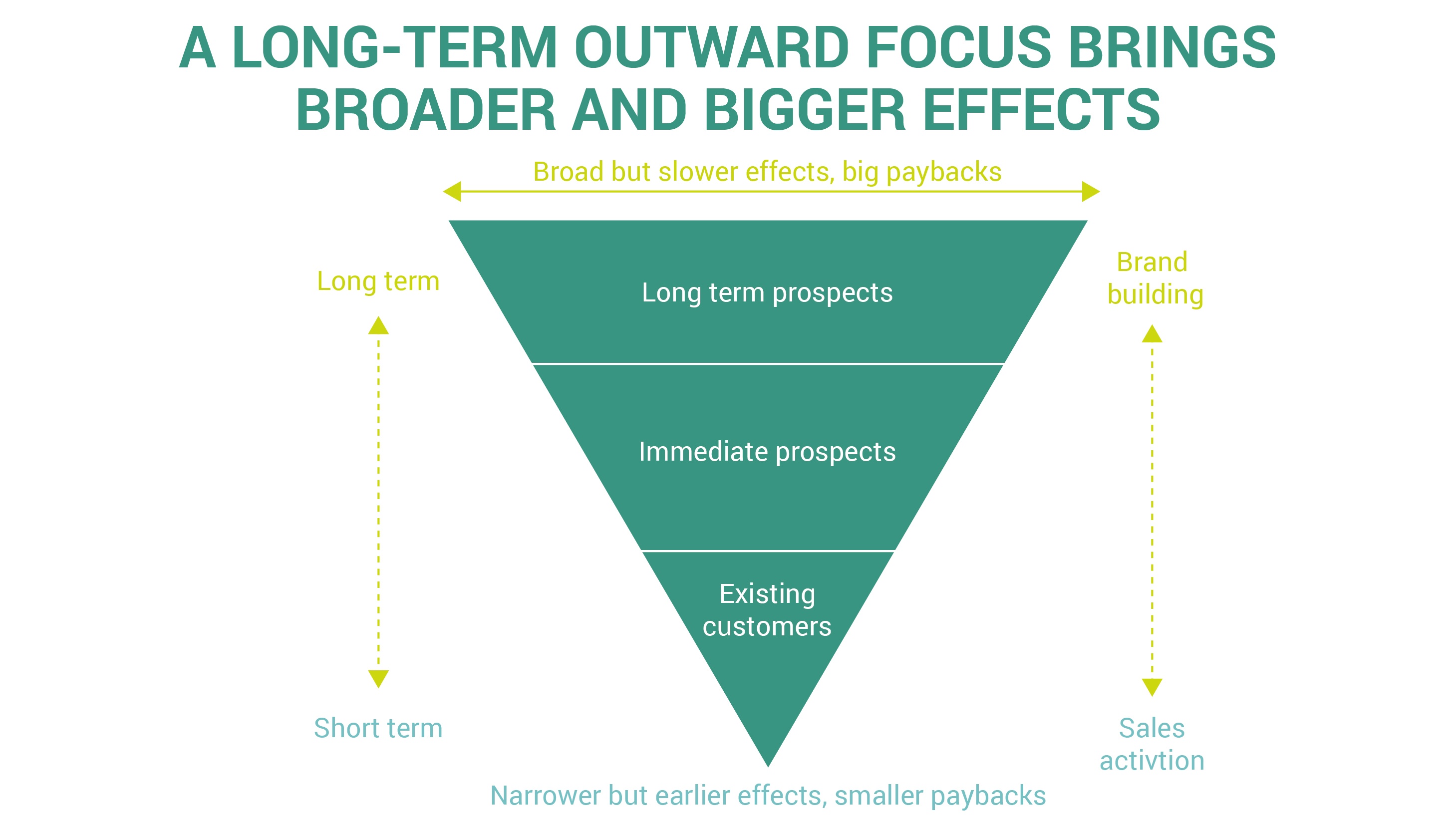 Source: Les Binet and Peter Field, The Long and the Short of it, IPA, (Figure 22).


5. Plan, Do, Measure, Review



As the saying goes, 'what gets measured, gets done'. It's one thing to create great plans, however success lies in successful execution. An essential element of your long-term growth strategy should be a framework for how you will manage your growth plans. Which CRM will you work with? How will you gauge success? What KPI's will your employees be accountable for?

By managing your long-term growth strategy on a continuous basis you'll be able to ride the inevitable peaks and troughs of competitive activity and market forces. More importantly, you'll be able to amplify successes and mitigate losses along the way.