WHY DO INBOUND? SALES AND MARKETING ALIGNMENT IS A GREAT START.
It's ironic that we all intuitively know that sales and marketing teams should work together more effectively, yet our experience tells us otherwise.
WHY DO INBOUND?
It's All About Smarketing - Sales and Marketing Alignment
87% of the terms Sales and Marketing use to describe each other are negative*. This article puts a big cost on misalignment between the two protagonists.
Why is this the case? One major reason is because they have different KPIs/goals. The inbound methodology aims to bring Sales and Marketing into alignment by having the same, known and measured revenue KPI's – HubSpot, even has a word for this alignment – SMARKETING! To be honest, I agree, it's a pretty woeful name, but it's simple and descriptive. Only working together can they improve lead generation and sales performance. If a business can harness the strength of its two 'demand generating' levers, it will stand a much better chance for growth.
HOW SMARKETING CAN MAXIMISE REVENUE?
If sales and marketing are two-sides of the same coin and work together towards the same revenue targets (Smarketing), then Inbound provides a clear framework around which they both can operate.
Let me simply outline the process (also shown in the chart below). Marketing is tasked with attracting 'Prospects'. Prospects are then invited to further explore your product/service offering with valuable, relevant content. The 'right' Prospects are validated (according to set agreed criteria) as Marketing Qualified Leads (MQL's). These leads are handed over to Sales team, who themselves validate the lead. Assuming they're happy with the lead quality it becomes a Sales Qualified Lead (SQL). The Sales team then engage these nurtured leads with targeted offers that aim to 'Convert' the lead into a Customer.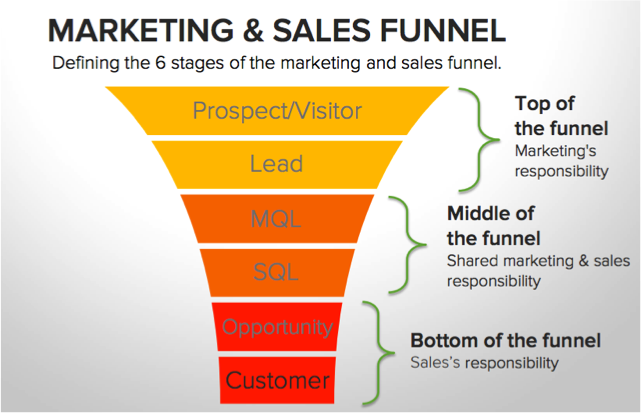 Learn more about Inbound and the benefits of Smarketing from HubSpot's most recent research in this year's State of Inbound 2017 Report, download here.
THREE ASPECTS ARE CRITICAL IN THIS PROCESS
Sales and Marketing have clear definitions of each stage of the funnel.
Each function agrees to delivering KPIs for their section of the funnel.
There is clear measurement and tracking in place to allow objectivity of these agreed performance metrics. Dashboards with integrated reporting can really help here.
In the ideal Smarketing-world, regular Sales and Marketing meetings should review and work together to act on performance through the funnel.


INBOUND CAN GIVE MARKETING ITS VOICE BACK
A lot has been written about the demise of Marketing's influence at the C-suite and Executive level. Inbound, gives marketing a crucial role to play (at the Top of the Funnel) and together with agreed metrics, it gives it relevancy back to the function. It's no longer a 'stickers and badges department' but rather a critical driver of the business engine, revenue, deeply connected to the Sales function.

So Smarketing, whilst a woeful word, is a great concept, that if harnessed will help drive business growth. If you'd like to know more about the current state of Inbound Marketing download Hubspot's "state of play" report.
Download the Free Report now
and ensure your business is ready for the #FutureOfInbound.
*In a recent Corporate Executive Board survey, sales executives' top terms for their marketing colleagues included "paper pushers," "academic," and perhaps worst of all, "irrelevant." On the other hand, marketing executives called out their sales counterparts as "simple minded," "cowboys," and flat out "incompetent." Strikingly, across several hundred sales and marketing responses, a full 87% were negative. Image Source: HubSpot