Have you heard of the term Inbound Marketing? This may be a new word but familiar concept.
WHAT IS INBOUND?
Inbound Marketing is a framework that aims to draw visitors IN to your brand by purposefully using interesting and helpful content, rather than forcefully interrupting or shouting OUT to prospects for their attention. With Inbound Marketing, potential customers find you through channels like your website, blogs, search engines, and social media.

WHY IS INBOUND MARKETING IMPORTANT?
Like never before, customers and consumers are fragmenting their media consumption and have ever-increasing power to choose the media most relevant to them. They are sick of being bombarded with irrelevant communications and are rejecting being advertised 'at'. So there's got to be a better way to attract and engage customers and consumers.
Inbound Marketing can be the solution. It better targets communications at your potential customers; when they want, where they want and how they want to engage. Plus, now we have the tools, technology and the data to be clever about it.
Inbound can help you:
Generate more leads
Increase web traffic
Create remarkable content
Understand your online performance
Delight your customers
THE APPROACH
The Inbound methodology is based on a Marketing and Sales funnel. It involves tailoring content and media that funnels your prospects towards becoming, Marketing Leads, then Sales Leads and then conversion to your desired action (for example, to buy or to register). Finally, and not to be forgotten, is continuing to delight your clients such that they can further promote and amplify your brand.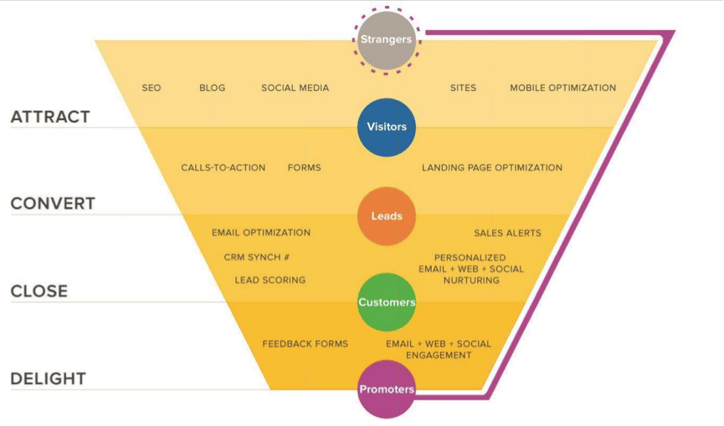 THE PLAYERS
One big benefit of our digital world is the marketing technology available that can help publish, track, nurture and measure much of your online marketing effort, and this is certainly the case for Inbound. At The Collaborative Agency, we are an Agency Partner with the Hubspot platform. Hubspot is a leading marketing automation software company (you may also have heard of Marketo and Salesforce) that have pioneered this area since 2006.
You can learn more about Inbound from HubSpot's most recent research in this year's State of Inbound 2017 Report, download here.
We have a strong team of 'Inbound Certified' marketers* who provide all of the capabilities for strategic development and execution of an inbound marketing strategy.
We start by creating a strong understanding of your audience's personas, goals and buying journey. This enables us to construct a content strategy suited to your audience that helps guide them through your marketing and sales funnel.
The typical services we execute are a suite of:
SEO & SEM
Email & Lead nurturing
Content Creation
Landing Pages
Social Media
Marketing Analytics
CRM
Website design and development
LEARN MORE BY READING THE STATE OF INBOUND 2017 REPORT
Every year, HubSpot surveys thousands of the world's foremost marketers and salespeople. They ask them about their most pressing priorities, the challenges they face, and the strategies they plan to add in the year ahead. All of these insights are then consolidated into a master report: The State of Inbound.
The most recent version of the State of Inbound looks to the future of marketing and sales. It covers ROI benchmarks for inbound campaigns, which channels marketers should add to remain relevant, data-backed steps for marketing and sales to collaborate better, and much more.
Download the Free Report now and start preparing your business for the #FutureOfInbound.
* Gordon, David and Bianca are all Hubspot 'Inbound Certified'. Image Source: HubSpot