TAKE FULL CONTROL OVER YOUR WEBSITE PERFORMANCE WITH HUBSPOT
It can be challenging for marketers and business owners to make changes and upgrades to their website, let alone dynamically test different content tactics. Having to go to the developer is expensive and time consuming and if your IT team manage the site, you'll need to wait in their priority queue. Either way, you are not leveraging the inherent possibilities that online marketing and commerce offers.
So, it's time for Marketers to take full control of their website by carefully selecting the right content management system.
It's not ok to simply rely on the recommendation of your developer or IT department – they will recommend something that's in their wheelhouse, not yours. And it's rare that your IT team will understand the specific day to day needs of your marketing team.
Choose a CMS that's made for marketers
Marketing teams just want to get on with the job, without constraints. They're tasked with growing traffic and converting that traffic. They want to personalise experiences and delight customers. They don't want to be bogged down with code and IT related issues.
The good news is that HubSpot's new CMS has been designed with this in mind, by letting marketers take control and ownership of their website without the need to consult with their developer and IT teams because of its ease of use. Plus, it is an all in one tool, designed to help marketers grow website traffic and leads.
Make sure your website is maintenance free
Let's face marketers aren't great when it comes to the technical side of their website. Items like security, up time, firewalls are not home territory.
With HubSpot's CMS being a SaaS CMS, all of these items are taken care of for you from the beginning with a globally hosted CDN, 24 hr threat monitoring and a web application firewall. In addition to this, system maintenance is managed for you as well.
What does all this mean? It's all about opportunity cost – you will have more time and resource to focus on the value creating areas of your marketing role. Plus, there's no ongoing fees for website maintenance.
You want easy to build, editable and optimisable web pages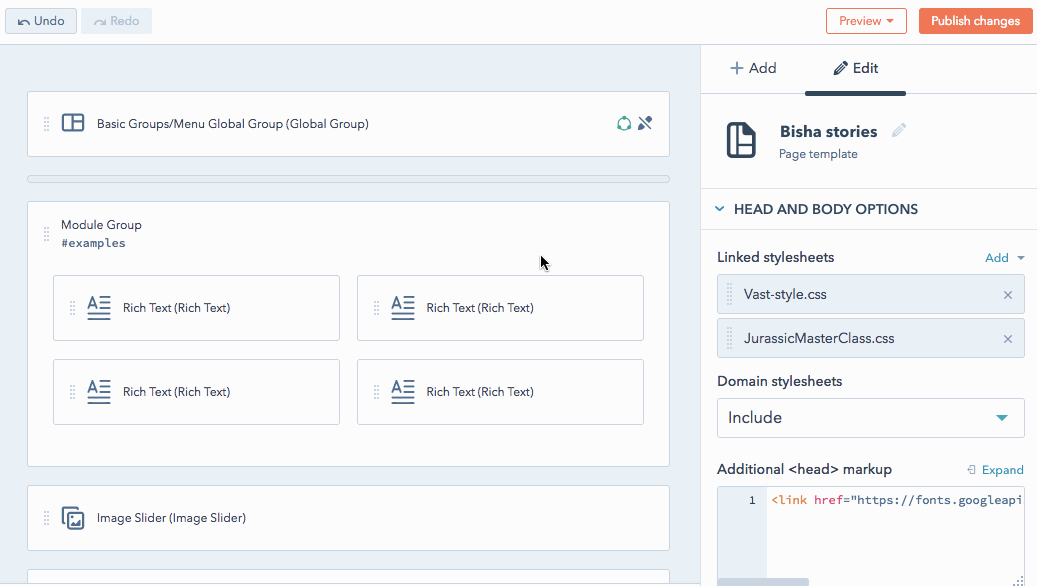 One the most frustrating experiences for marketing teams is accidentally breaking the CSS or a design theme. Formatting can be skewed and the help of a developer is urgently required to fix a broken user experience.
Hubspot's new CMS creates pages based on themes with editing done with drag and drop functionality effecting only the page you are working on. So, all your pages can be the way you want them to be without having to build a new template for page variations.
The time and cost impact of being empowered to make your own changes like this is hugely significant. We are talking minutes versus days to make changes.
Create one-to-one personal experiences
Personalised web experiences have long been a hot topic for marketers. The logic and evidence being that the more you make the prospect or customer's experience personal, the greater likelihood of achieving positive outcomes for your business.
Traditionally this has been only in the domain of very expensive enterprise content management systems. Now with the new HubSpot CMS you can create a personalised website experience at an affordable price point by using the new memberships feature.
The memberships feature enables users to be enrolled in content workflows based on their previous behaviour. For example, you might have customers within a certain segment that you might want to cross promote allied products that they haven't purchased as yet. Or for light buyers or browsers you might want to offer a special bonus buy or discount to encourage a deeper commitment to your business. The possibilities are endless.
Build powerful website functionality that helps users
Applications that make the prospects and customer lives better are a key component in building a website that is 'sticky'. Helpful and useful applications like calculators, registrations to events/content and more, often use server-based code.
Now for the marketer what does mean? Not much, right? Often unseen by marketers and management is the management of web servers which can be the source of many problems and cost.
The HubSpot CMS overcomes this by using serverless functions so the development team won't have to concern themselves with managing servers and traffic levels.
Effortlessly optimise for SEO
SEO can be a 'black hat' task, leaving the marketer scratching their heads for direction and looking for meaningful integration with the rest of their plans. HubSpot's new CMS helps remove the mystique by automatically suggesting how you can optimise pages across the entire website.
Hubspot CMS uses topics to arrange your content in a way that facilitates search engines to crawl your site and correctly index your website pages. You can then execute the changes using one simple tool.
Finally, when you integrate your Google Search Console you can have a complete view of your SEO performance from the one place, spotting trends over time like how visitors reach your site, what type of content is engaging and contact attribution.
Key takeaways
Marketing teams should demand full control of their website
No longer is IT or your developer a website road blocker for marketing teams
One-to-one website experiences for your customers are now attainable with Hubspot CMS
Your website is an evolving entity, so your CMS needs to be scalable and grow with you
Wasting time on systems and server maintenance is an unseen opportunity cost for marketers
HubSpot's new CMS enables marketers to take control of the website and grow the business