THE SMARTER WAY TO BUILD WEBSITES THAT SUCCEED
If you've ever gone through the process of developing a new website, you probably would have experienced the potential for a never ending round of refinements and scope extensions. While this seems like a good idea at the time, there is the inevitable frustration of scope creep and budget-blowouts that are often associated with this style of web design, which is often done without customer input.
WHY TRADITIONAL WEB DESIGN IS BROKEN

By attacking the entire website at once, you leave no room for iteration or improvement, and you have no real-time data on how customers are interacting with the site, because it usually never goes 'live' until it is completely finished. Leaving you unable to optimise and adapt to customer needs. Often, traditional web design like this is a huge investment of time and resources, running over budget and causing headaches.
Websites are the face of your business and are critical for its growth. It's vital that your website is putting your business' best foot forward and giving your customers or clients a valuable experience. So, instead of being neglected for years with minimal updates, shouldn't this important asset get the resources and attention it needs to continue being a top performer for your business?
INTRODUCING GROWTH-DRIVEN DESIGN (GDD)
Growth-Driven Design is a smarter approach to web design that aims to eliminate all of the bottlenecks and headaches of traditional web design, by approaching web development in iterative phases that build on one another, as opposed to treating it as one "project" with a clear end date and 'final product'. It's an approach that drives optimal results using solid data, allowing for a quick website launch and then continuous data driven improvements over time.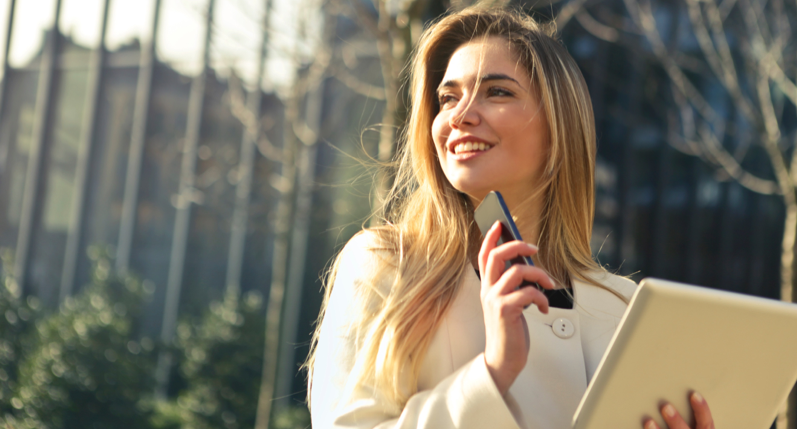 Once you launch with a Minimum Viable Product (MVP) website, you are able to track customer behaviour and experience with the website and use that information to inform your next development stages. The result is that your website becomes stronger as you continue to measure, iterate and act.
While Traditional Website Design is often built on assumptions about customer needs and behaviours, requiring a large time investment and big up-front costs, Growth-Driven Design reduces the frustration and risk associated with traditional web design by learning about your visitors through data and making continually improvements to the website over time.
By approaching website design in clear phases you can increase the performance of the site, avoid large up-front costs and have the ability to launch quickly on budget. As a flow-on effect, the continuous learning about customer behaviour and development can be shared with other departments, to improve the business as a whole.
Learn how to take full control over your website performance. Read more

HOW DOES GROWTH-DRIVEN DESIGN WORK?
The Growth-Driven Design Methodology is broken down into three major stages: the strategy, the launch pad, and continuous improvement.
The strategy phase focuses on an empathetic understanding of your audience and how the website can solve problems along their journey. This phase begins with really digging into what the pain points are for your customers. Are there frequently asked questions that they just can't find the answers to? Perhaps the website is not laid out in a logical way for them?
The launch pad phase goal is to quickly build a website that looks and performs better than what was there previously yet isn't a final product. The launch pad is the foundation that gets built upon and optimised. This website aims to resolve the customer pain points from the strategy phase, but not tackle everything on the 'to-do' list.
The continuous improvement stage of Growth-Driven Design is about using your website data to identify the areas that you could work on next that would have the largest impact for your customers. Once you have identified the next area to work on, the process starts again.


DOES GROWTH-DRIVEN DESIGN WORK?
Companies across the world are finding more success with Growth-Driven Design. HubSpot conducted a "2017 State of Growth-Driven Design" survey of 350 GDD agencies in more than 40 countries to understand the impact of GDD on their clients.
Here are some of the results:
Quicker time-to-value and better lead generation.
Launching in nearly half the time and on budget. On average, it took only sixty days!
Once launched, rapid improvement was made by using the real visitor data from the new site.
Growth-Driven Design drives better business growth.
The 350 agencies in more than 40 countries reported seeing 14% higher website traffic, 16.9% higher leads, and a whopping 11.2% more revenue when using Growth-Driven Design instead of traditional web design.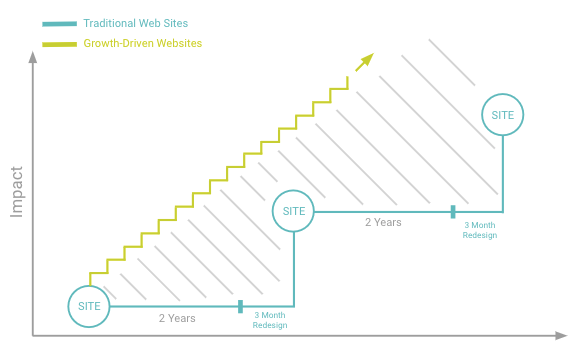 The Growth-Driven Design Method will allow you to:
Quickly launch and improve your website.

Investment spread out over time and on budget.

Perform optimised data-driven updates.
Have continuous improvement.
Growth-Driven Design is an approach to web design that works smarter, not harder. With manageable development sprints, data informed decisions and continuous improvement, your next website design could be headache free (or at least headache-reduced, let's be honest!)