MARKETING OPPORTUNITIES FOR BROKERS AND ADVISORY BUSINESSES POST THE BANKING ROYAL COMMISSION
Now that the findings from the Banking Royal Commission are out, we have delved into the marketing opportunities for brokers and advisory businesses. Discover marketing opportunities for Brokers and Advisory businesses post the Banking Royal Commission.
It would be a massive understatement to say that the Royal Commission into Misconduct in the Banking, Superannuation and Financial Services Industry has placed a lot of pressure and uncertainty onto Planning & Advisory firms across Australia.
Whilst there are undoubtedly many commercial factors that will impact your firm, this article aims to outline some of the marketing implications for your business and provide suggestions on ways you can adapt in a more consumer-centric environment.
In short, the news is not all bad; there are ways to help your business thrive. It will require a strategic marketing approach, smart investment and perhaps most importantly, a fresh perspective on what it means to put the client at the centre of your business.

ISSUE 1: TRUST & REPUTATION HAVE BEEN UNDERMINED
It's a fact that trust in planners has fallen to a new low, placing them in the 'distrusted' range. The Investment Trends 2018 Financial Advice Report, found that more than 40 per cent of respondents believed the financial services and banking industry had not met its obligation to everyday Australians and that trust in planners was at an all-time low.
However, do take heart! The same research said that this distrust is less the case amongst people who use planners, so there are satisfied clients that are being overlooked in the headlines. In the next two years, an estimated 2.1 million adults intend to turn to a financial planner for advice, up from 1.6 million in 2017.
MARKETING OPPORTUNITIES
1. Let clients know the efforts/lengths you go to advising them
As you know, there's a lot of work that goes in to determining which insurer and insurance policy, or mortgage option is appropriate for the client. Navigating the client through this process, adapting to ongoing life changes (work/relationships etc), helping with claims, advising beneficiaries and much more, creates value for the client. You could make this tangible by articulating the comprehensive approach your firm takes towards providing advice. It could be written into your value proposition and executed within web content, videos, your social media communications and other collateral.
2. Promote the need for continuous discussion with Advisers & Planners
The world is still a very uncertain place. Trusted advice is going to be more valuable than every before. Whilst confidence in the industry may have taken a hit more broadly, there are cohorts of consumers, especially older Australians who will be looking to draw down on their wealth in the near term, who will have a present need for trusted advice amidst uncertainty. One tactic that might work well here would be real testimonies and case studies that demonstrate your value in a tangible and emotional way.
3. Keep clients informed!
Keeping the basics of good service is critical. Implementing pro-active reviews (6 & 12 months) with clients can only help - by phone if they're busy, or in person. Not only could it build trust, it's also likely to improve your NPS score (according to the 2018 MetLife Adviser-Client Relationship Report) as clients are more likely to refer their adviser to family and friends.
4. Promote your industry credentials
The new FASEA standards (educational or otherwise) and requirements for transparency will be a 'cost to compete'. They will be 'table stakes' requirement, so it's not likely to be a long-term differentiator for your business. However, in the early period, you might as well get on the front-foot to promote the credentials you already have. These are great 'signposts of trust' that will register with prospective clients.
We live in an age of certification and accreditation and you can see this being used to great effect in many other industries. For example a tuna company may promote 'dolphin friendly' (implying but not saying that rivals are not dolphin friendly. Or take the example of Coles telling us that their fresh meat is 'hormone free' - claiming a generic territory that most competitors also comply with is a powerful way to reassure clients.
Download a helpful guide explaining the opportunities for marketing your advisory business post the royal commission here.

ISSUE 2: SHORT TERM PAIN, LONG TERM GAIN
Operational business costs are increasing, and traditional revenue streams are decreasing. We now know that the industry now faces the loss of trailing commissions for mortgage broking and grandfathered trails attached to finance and insurance products. Of course, we can see this reflected in share prices of listed (Mortgage broking) companies, so no doubt it is potentially going to have a material impact to your business too.
Additionally, Financial Adviser Standards and Ethics Authority's (FASEA's) education reforms look inevitable, however, it will have operational or financial impacts. Advisers in larger firms will need to turn their mind to the standards within their current teams and how to best close any educational 'gaps' once the changes kick in. As for Advisors in smaller (especially individual businesses) firms, they are rightly wondering 'where to now?'
Lastly, on the downside, it's also likely that marketing costs will increase as competition for quality clients increases. These will be costs, both related to keeping clients better informed and valued, as well as creative, content and media costs required for new client acquisition.
On the up side, there are clear consumer segments that will emerge with unique needs to satisfy. At one end - the ''top wealth management quintile' have a high (33%) usage of financial planners or advisor. These are clients who have the biggest portfolios so this segment will continue to value quality advice. In addition, Roy Morgan Research suggests that there are other groups that have above average use of financial planners/advisors include those with incomes of $130k or more (22.1%), Baby Boomers (18.5%), those aged 50 and over (16.6%), Pre-Boomers (15.8%) and the AB Socio Economic Quintile (13.7%). These are all good segments to consider focusing on.
Finally, a white paper by ClearView, published late Nov'18, indicates that the future is bright for established, well-respected advice based firms. The hurried exit of the institutions from wealth management will create the ideal environment for quality advice to thrive, so opportunity awaits those that fortify their credentials and offer tangible value. The paper has pointed to rising demand for financial advice and the likelihood of an 8,400 shortfall in the number of advisers necessary to meet that demand.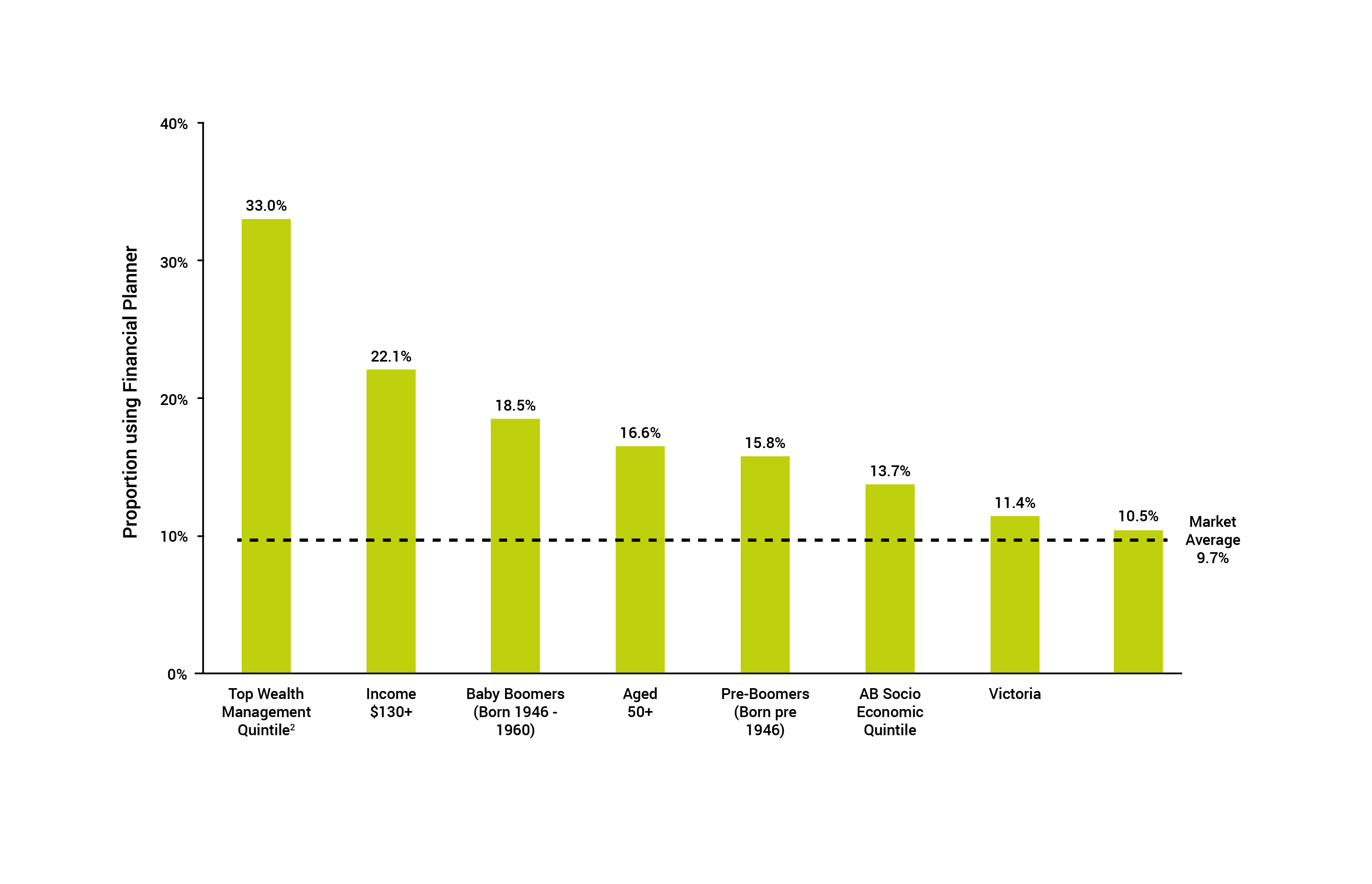 SUGGESTIONS & MARKETING OPPORTUNITIES
1. Change the advice model - Money Coaching!
In Australia, there is currently a gap in the financial planning industry when it comes to the pre-advice stage or money coaching. Instead of leaving the industry due to incoming education reforms, advisers & planners could look at broadening their service offering to encompass money coaching - helping clients understand the behavioural psychology of money. This has been successful in the US for over 20 years and could help shift momentum towards attracting and engaging more people who are not currently receiving advice. This approach can prepare consumers with the tools necessary to engage further with a financial adviser. Money or cash flow coaches possibly won't need to be licensed to provide personal advice. Such educational content could also be leveraged in local community groups (e.g. sporting clubs) and webinars.
2. Seek economies of scale, then segment and automate
Quality client acquisition is a growth lever to offset margin erosion. This brings into play strategies around mergers, acquisitions or collaborations where the bigger entity can effectively create unique needs based segments for their clients based on their distinctive financial needs. Combine this with a smart CRM and quality content; a refreshed business may be able to serve a variety of segment cohorts at scale.
This does not mean you need to service every need, as you may need to look at specialising in one customer segment and understand them with the richness and insight that can genuinely add value.
3. Consider a tiered approach to service.
This is a well worn strategy across many consumer facing goods and services businesses. In short it's a " Good - Better – Best" approach where clients understand exactly what service level and advice they will be receiving at each tier. It does carry some complexity, but carefully and clearly specified, it allows for packaged advice to be assembled that is attractive for the client and profitable for the firm. Implicit in this, is to not neglect current clients . Whilst it's true that some of them are not as valuable to you as they were last year, remember, this is a new world, and there is still value in these clients, directly and indirectly as referral sources.
4. Invest to grow
You probably advise this to your clients all the time! Now you may need to heed your own advice. Typically, 'growth' marketing investments are between 5% - 10% turnover to spend. Research from Binet and Field (The Long and Short of It), suggest the right mix of expenditure for long-term profit should be (approx.) 60% towards building/developing your brand assets, and 40% on communicating and executing the strategy.


ISSUE 3: PLANNERS AND ADVISORS ARE NOT TYPICALLY SET-UP AS CLIENT-CENTRIC ORGANISATIONS
Perhaps this seems a bit harsh, however when compared to the best consumer-centric brands such as those in the FMCG (Fast Moving Consumer Goods, Grocery products), Retail or Consumer Electronics markets (among others), advisers and planners have been more focussed on selling product than serving the consumer's needs.
Advisors (and indeed financial institutions of many sizes) do have rich databases on their clients, however anecdotally, few advisors have the more sophisticated CRMs that allow for personalised and automated client communications as well as being integrated with existing information systems that can really customise marketing efforts. Or, if they have them they may be under utilised.
However, more importantly, the nature of what clients want, expect and the channels to reach them, has changed dramatically in the digital world. Planners and advisors are not alone in playing 'catch-up' in this regard; nonetheless, these changes have profoundly affected the way marketing is conducted. In terms of your typical clients, many may be the more traditional/older clients who still desire face-to-face contact, however many (emerging/future) clients now expect a digital/online experience, even to the point of self-service.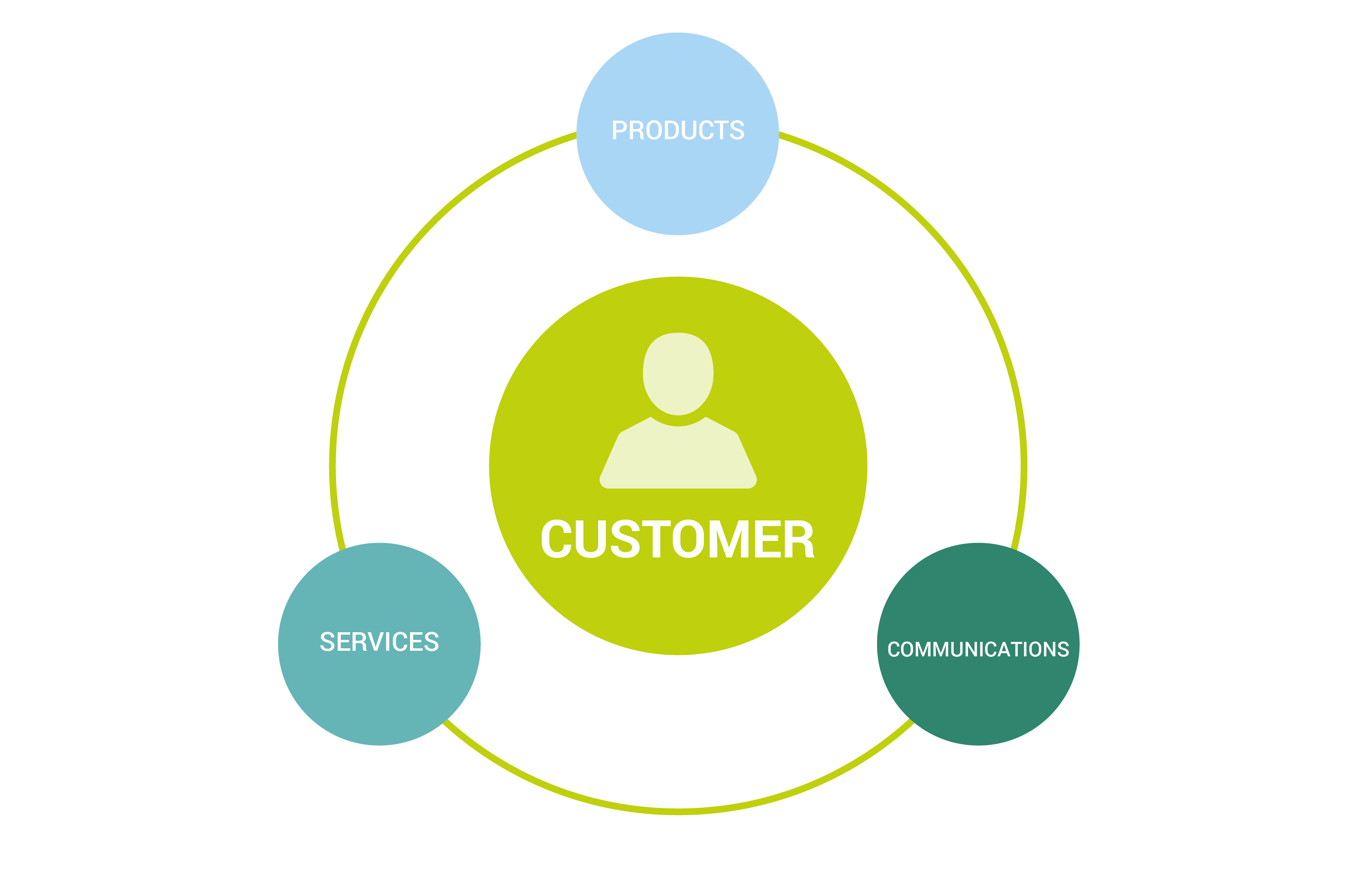 SUGGESTIONS & MARKETING OPPORTUNITIES
1. Identify the 'Persona' and 'Buyer Journeys' of your most valuable clients.
Your most valuable client may be an existing client you are looking to 'Retain', or it could be for a new client that you want to 'Attract'. Either way, it may help to work with an external agency to bring to life your ideal client, drawing a rich picture of their lives (preferably based on quantitative data sources like Roy Morgan or Google) and identify their pain & gain points when engaging with financial services. Then set about helping them solve their problems with unbiased, objective 'General' advice and content. This may well lead to initiative like 'Money Coaching' mentioned earlier, but likely to unlock so much more.
2. Consider a CRM that can give your business 'one source of truth' about clients and automate communications.
A good CRM will provide a platform to personalise your communications. For existing clients it should integrate with your own secure financial data. And for prospective clients who show an interest in your services, it will help capture the details of sales interactions, provide useful segmentation and facilitate nurturing them by serving up relevant, timely content.
3. Think Digital
No matter who your most valuable client is there will likely be a need for digital delivery. Digital delivery of helpful and useful content, such as information updates, webinars to share the benefits of your community, social media, and even advertising that helps client's financial literacy. All these digital tools and platforms mean you can service and reach prospects and current clients like never before.
4. Structure your Marketing around the client
You could look to alter roles, job titles and job descriptions of your marketing team so that all communications are all informed by who the client is, what they need, where they want it and how it will be consumed.
You could adopt a client-centric framework for your communications. One that focuses on providing helpful, useful and relevant content wherever they may be in their buying process. Within such a framework, you can focus your marketing efforts on areas where you need it most. It might be either
Attracting the right prospective clients. The ones you want and can well satisfy,
Converting these visitors to leads who want to know more about your services,
Closing those leads into clients by nurturing them, meeting with them and helping them, and
Delighting your clients by continuing to engage with them such that they become promoters.
Each stage gives rise to different conversion tactics, and should help give your marketing an edge.
One final option to consider is to engage an external agency that can help you transform your business and communications towards becoming a more client-centric business.
If there's one headline from the Royal Commission into Misconduct in the Banking, Superannuation and Financial Services Industry, it's this – put the client at the centre of what you do. This brings the role of marketing into more acute focus for planning and advisory businesses. Although there is a fair bit of short-term pain, the news is not all bad. To help your business thrive long term now requires your firm to embrace a strategic marketing approach. Most importantly, implementing a fresh perspective on what it means to put the client at the centre of your business.
Download a helpful guide explaining the opportunities for marketing your advisory business post the royal commission here.