HOW TO TAKE A STRATEGIC APPROACH WITH YOUR CONTENT MARKETING
The thing about content marketing is that it can often be characterised by the manic execution demanded by the dynamic nature of social and digital media. By taking a strategic approach to content marketing, you'll focus your effort on solving the needs of your buyer persona and aligning them with the helpful solutions inherent in your brand.
It's important to take some time to really think about what your business could gain from developing a content marketing strategy because this 'time taken' will result in better returns than running a haphazard, uncoordinated marketing approach.
Once you decide that content marketing is right for your business, we suggest you work through the following strategic process to create a content marketing strategy for your business that will maximize outcomes such as awareness, leads and conversion ratios.
Our ultimate challenge is to get our prospects and customers to choose us!
Instead of guessing or hoping that we understand what our customers need, why not use your customer's actual viewpoint to point it out for you? Using market research is a great place to gather the customer insights you need to refine not only your content but you're your product and the experience it provides.
Use these customer insight questions to build better content marketing and a better customer experience. They are easy to ask of your business and brands and the answers are best informed by your actual prospects and customers.
The 6 key customer insight questions
Who are they?
What do they want?
Why do they want?
Where do they hear about/get it?
When do they want it?
How do they want it?
Identify what purpose will your content serve
Now that you have your key customer insights gathered you need to work out what purpose your content will serve from a customer's perspective. Will it provide greater utility to your product offerings? Will it educate? Or will it entertain?
Lastly, you need to think about your content's role across the buyer's journey.

Content should be planned according to the purpose of each stage. For example, if your content is only geared to the awareness stage, then this might result on potentially lower conversions because there is little content to argue your businesses case during the consideration and decision stages.

How will your content align with your value proposition?
Content marketing should align with your brand marketing. The days of doing content marketing purely for search engine ranking are well and truly over. That's not to say content marketing won't hurt your SEO performance - it will as they go hand in hand. However, more than ever before it is the intent that Google looks for and it's what your customers have always wanted from your business and brands.
Content marketing strategy revolves around your buyer persona
The great thing about content marketing is that it forces customer centric thinking. What content would customer choose to engage with? The best way to guide this thinking is to ensure you have a thoroughly resolved buyer persona.
Begin with your most important customer type
It's surprising that many businesses operate on the basis that all customers are equal when in fact they are far from equal. So, if you haven't already done worked out who your most important customer is then it's time you do.
Typically, highly attractive customers to your business are based on your ability to deliver on their needs and make an acceptable profit from them. We use this matrix format to decide on the most important customers by plotting the different customer types on the matrix.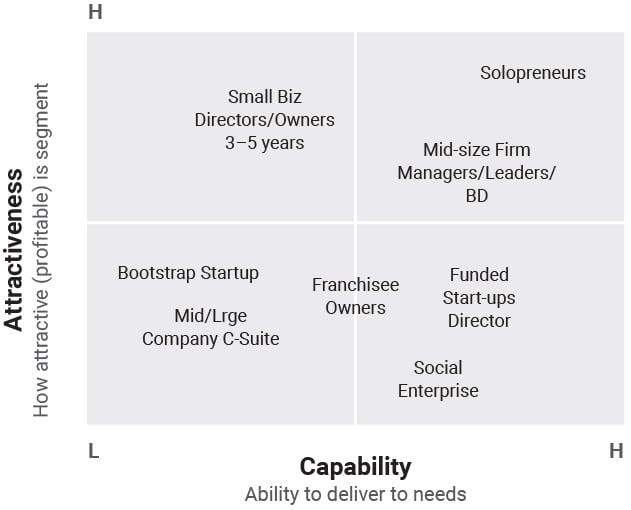 What keywords are your buyers using?
Your primary research might have uncovered some deep emotional layers about your customer's motivation. However, your keyword research will add a practical layer to their motivations and marrying the two up will lead to an extremely insightful buyer persona.
By looking at keywords you can begin to bring an executional mindset to the content marketing strategy process. You can assess the competitiveness of key words and your appetite to go after the keyword based on your byer persona and brand strategy as per the example below for a Sleep Consultant's business.
| | | | | |
| --- | --- | --- | --- | --- |
| Keyword | Search volume | Competition | Appetite? | Pillar content? |
| Baby sleep routine | 44000 | High | Yes | Yes |
| Baby self-settle | 29000 | High | Yes | Yes |
| Music to help baby sleep through the night | 140 | Low | No | No |
What questions does your buyer persona ask?
To find out what sort of questions your buyer persona asks you can utilise an online listening tool like Answer The Public which listens into autocomplete data from search engines like Google. Once you type in your keyword it generates useful phrases and questions people are asking around your keyword.
You can also search more broadly for your topics and write down the question's customers are asking Facebook or LinkedIn groups. Note Quora, Reddit and Whirlpool are also great sites to understand context.


Create your buyer persona
Buyer personas are best done by gathering the collective wisdom from the experts within your business such as sales and customer service people, marketers and senior management.
Why not schedule a workshop and bring together your best minds and the research gathered to drill down into your buyer persona's motivation. Write a 'buyer's story' where you interrogate your buyer by filling in the following blanks - about their needs, likes, worries, hopes aspirations and information touchpoints.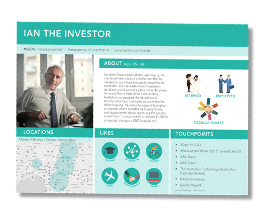 Decide on your content strategy with core topic pillars.
Now that you've found the intersection between your buyer's needs, their questions and your brand, you can now decide on the core topics that will underpin your content marketing strategy.
Using your buyer persona and the data sources that you have used to create it, let's decide on the content pillars that will appeal to both the human and google behavioural elements of your buyer persona.
We identified these core topic pillars by marrying up the solvable challenge, with our goal and a content theme we can populate with lots of sub topic content that target the critical keywords.
| | | | | | | | |
| --- | --- | --- | --- | --- | --- | --- | --- |
| PILLAR | EVENTS | WOMEN IN BUSINESS | BUSINESS TOOLS | LOCAL AREA MARKETING | SUCCESS STORIES | EDUCATION | COMMUNITY INVOLVEMENT |
| Buyer Persona | ROD | SANDRA | ROD | ROD | SANDRA | SANDRA | BOB |
| Their challenge(that we can solve) | Events can be a lot of blah. | I feel a little anxious about networking amongst males. | How do I build a network that's valuable & profitable? | How do I build a business network in my local area? | Will this networking thing really work for businesses like mine? | Finding time to educate myself on how to build a better business. | Why should I bother engaging with the community and social organisations? |
| Our Goal | To help business owners make the most of the events they attend | To help women be confident networkers with both M&F | To show the value of networking | To motivate business owners to attend their local Hub | To show real-life examples of business owners who have benefited | To educate confident, rounded business leaders | To show the numerous business benefits that flow from being engaged with the community (local or global) |
| Theme | Purposeful event attendance | Overcoming anxiety around networking | Achieving business goals | Act local to grow local | Networking works for my business | Education as a business enabler | Doing good is good for business |
Key takeaways
A strategic approach to content marketing will ensure a synergistic effect when coupled with brand marketing efforts for your business as the two should work hand in hand.

Taking the time to gather primary and secondary research inputs into your buyer persona will pay dividends over time as it adds to the richness and intent for your content.

As a business it is important to identify your most important customer to align your capabilities with the most profitable customers.

Thinking about the purpose of your content over the buyer's journey is a step often missed and will help ensure its development hits its purposeful mark.

A strategic approach to your content marketing will make your content development and amplification that much more effective.