Recently, the 2018 State of the CMO report was released where, as expected, 'digital transformation' was touted as a top priority for marketing and customer experience efforts.
The survey showed that there has been a 52% increase in spending on technology in the last year. This increase in spend is across Customer Relationship Management systems like Salesforce, Marketing Automation systems like HubSpot, plus SEO Search and Analytics systems like SEMRush. However, the most interesting finding is that nearly 40% of respondents did not report gaining any competitive advantage from buying or using this technology.
So, where are marketing teams going wrong with their tech stack?
It is exciting to get new technology and capabilities in your business and with the right planning and strategy in place, the right technology can make a huge difference in reaching your business goals. However, sometimes it's easy to think of new technology as being the 'solution' to a business problem, rather than critically defining what actually is the business problem in the first place. Marketing technologies in the end are simply tools that you use on your way to solving that problem. This is where disappointment can occur, with business owners feeling like they are not getting ROI on their technology investments.
When we were reading through the results of the 2018 State of the CMO, one thing that we noticed is that there seems to be a disparity between the stated goals of the respondents, and the ideas that they had on how to reach those goals. 94% of respondents stated that optimising customer experience is a significant focus for their business.
Yet, when asked about content marketing, only 9% of respondents believed that using customer data and insights to create and optimise marketing plans is highly effective for personalisation of customer experience. Further, only 12% believed that creating and delivering timely content tailored to customer segments was highly effective for a personalised customer experience. Plus, given the desire for optimising customer experience, only 51% of respondents have any form of documented content strategy and only 8% have adopted a customer-centred design strategy.
That's a lot of numbers to get your head around, most importantly, you can see from these statistics that business owners have acknowledged the value of optimising customer experience and are investing in a tech stack that they are hoping will help them along the way. However, are they connecting the dots between their intent to provide better customer experiences and the content marketing required to achieve them? It seems unlikely at this stage.
Bridging the disconnect. Give the people what they want
When you are writing down "optimising customer experience" as a goal, it's important to ask yourself, what does that actually look like? What do your customers actually want? In a 2017 study by PWC's Digital Services group, 94% of senior level executives believed that delivering personalised content and experiences is critical to their businesses reaching and retaining customers. With the waves of advertising and information that customers are given every day, the content they will interact with is the content that is for them, about them, when they want it.
What are the category leaders doing well?
It's unsurprising that category leaders and innovators who reported positive ROIs from their new technology stack, had a heavy focus on:
Targeted, data-driven content
Customer-led thinking
Documented content strategies
Higher investment in content creation and distribution
Finally, attribution metrics for that content
What has been our experience?
For us here at Collab Agency, this looked like a commitment to posting 5 x per week on social media and 1 x per week on our blog. We are fortunate to have a team of eloquent staff that are able to write on their areas of expertise, so the content doesn't fall on one person's shoulders; it's a team effort. Every week we schedule our content based on overarching content plans and what is timely and relevant. Sure, it can be hard to get started, however you have to think of yourself as your own customer and hit your deadlines! For us, this meant using the tools in our tech stack such as HubSpot's social media planning tools and content pillars, SEO research tools such as SEMRush, and Google Analytics on our website and our content. These disciplined efforts have delivered a 4 x increase in website traffic in the first month of a committed, organised content plan.

Discover your potential inbound ROI with our ROI Calculator.
Why does a commitment to content work towards optimising customer experience?
As the old saying goes, content is king for customers. Not only does content assist customers in purchasing decisions with a much higher weight than advertising, customers believe that companies who are committed to providing custom content, are also committed in building good relationships with them.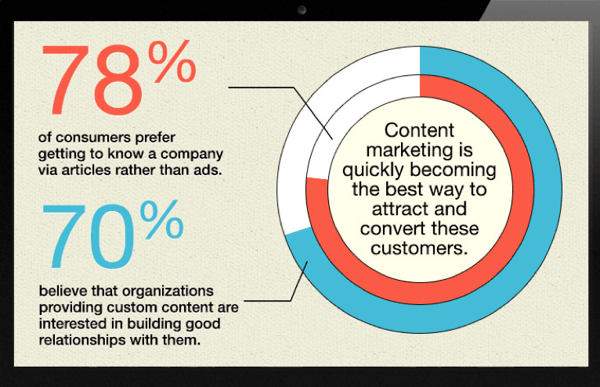 Source: Social Media Today
How can you get started today?
You don't have to become Buzzfeed overnight, (or ever!) yet taking a few simple steps towards content creation can make a huge difference in your focus and your use of your tech stack. Here are a few simple steps that you can take right now:
Audit your Martech stack
Maybe you became swept up in a sales pitch or thought that you might need to use a huge MarTech package that you don't actually need. It's important to get technology at a level that fits you. That's one of the things that we love about HubSpot for our customers and ourselves; the packages are tailored to company size, goals and work flow and you can pick a package that isn't 'biting off more than you can chew'. The best technology for your business is the technology that you will actually use. You can always upgrade, however an overload of tech that is above your needs will end up feeling like white noise to you.


Research
Sometimes it can feel like an impossible task, to figure out what your customer actually cares about, or wants to hear. Luckily this isn't something you need to figure out on your own. As part of our tech stack, topic and keyword research tools are a key part of our content planning process. On answethepublic.com, you can enter a product or topic, and see what the most common questions are around that topic. An excellent place to start with content creation is to look at commonly asked questions and write short blogs answering those topics.


Plan ahead
No one feels like Charles Dickens every day and there will be days when you just cannot think of fresh content, or catchy headlines. This is why it's so important to have an organised posting schedule and content matrix. If you know that on Wednesday at 11am, you are posting on Facebook and LinkedIn about topic X, a lot of the up-front thinking required is already done for you and if you can't come up with fresh content you can always share someone else's content or pull from a pool of your own past content.


Finally, the recent State of the CMO 2018 survey has highlighted the way in which many businesses are struggling to align their tech stack to their business goals. If you are failing to see the return from your investment in MarTech, the first step is to take a look at the day-to-day actions that your business is taking towards your goals. Are you really walking your talk? For many in the survey, 'optimising customer experience' was cited as a primary business goal and as we have seen they do not show a commitment to customised, timely content.
For the market leaders, a focus on customised content creation was a key driving factor in their customer experience success and their tech stack helped them along the way. So, if you are looking to get a return on investment on your Martech stack why not start with an audit, researching your customer needs and start the planning process. This way you will be able to take small daily steps towards your larger business goals, with a Martech stack that supports your customer and business needs, not one that weighs you down.
Wondering what your current ROI might look like? Try our ROI Calculator today.